We manufacture and wholesale plastic production pots. DonKwiat pots are used in horticultural and nursery production.
RICH EXPERIENCE – BEGINNING FROM 1977
The beginning of the company dates back to 1977, when Tadeusz and Danuta Smołecki opened the family company Don-Kwiat in the village Podlesie. The initial modest offer, thanks to the continuation of the family tradition, has grown to the current size. We offer popular and proven designs, but we also focus on innovation. We're introducing competitive, new products according to market demand.
STRATEGY
DonKwiat is not only production, it is a team created by people who are motivated by development – a small company has transformed into a brand that is characterized by innovation and quality. We are introducing more and more newer technologies and solutions. We are realising the long-term development strategy of the company, developed in 2016. We implement projects based on a developed design strategy, resulting in new products released to the market.
WE MANUFACTURE FOR:
Professionals dealing with plant crops on daily basis
Passionate lovers of nature and their work with plants
Economical and practical people, using the pots multiple times
People respecting their time and appreciating the undisturbed work of potting machines
WE EXPORT TO MANY EUROPEAN AND NON – EUROPEAN MARKETS
Our products are of great interest to nurseries and gardeners, they are willingly used in many nursery and horticultural farms, both domestically and abroad. The brand DonKwiat is recognizable and appreciated in many European countries including: Russia, Czech Republic, Slovakia, Netherlands, Germany, UK.
WE COOPERATE WITH DESIGNERS
In our offer there are products designed by KABO & PYDO – an interdisciplinary design studio. Products developed specifically for DonKwiat have been preceded by a design audit and are based on user surveys, thus fully responding to market needs. We provide you with innovative production and decorative pots, as well as transport trays, which are designed and manufactured in Poland with attention to the smallest detail.
OFFER
We offer you articles of different capacities, sizes and forms (round pots, square, bowl). Flowerpots are designed for planting flowers, plants and ornamental trees, sheds, fruit trees and some vegetables and fruits. The products offered by DonKwiat are suitable for hand and mechanized planting (in which automatic feeders are used). We care about the highest quality materials, which ensures that they are resistant to adverse weather conditions.
TRY OUR BRAND!
We provide competitive prices for pots and efficient fulfillment of orders. We offer discounts, individually determined according to the size of the order. We offer free transportation for larger orders, smaller quantities are sent by a courier.
We sell more than 50 000 000 pots annually. Every client is important to us, we approach each one individually. More than 500 customers from many countries has trusted us, this number is steadily growing. Find out about the quality of DonKwiat products by choosing from 80 of the offered models.
We have obtained the PN-EN ISO 9001:2009 certificate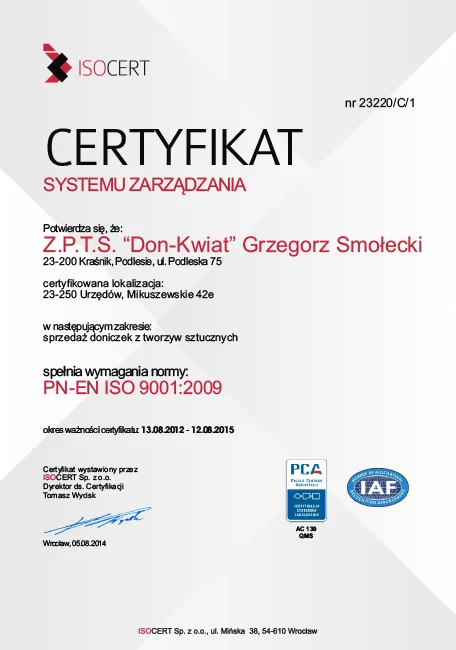 We have obtained certificate RELIABLE Company
---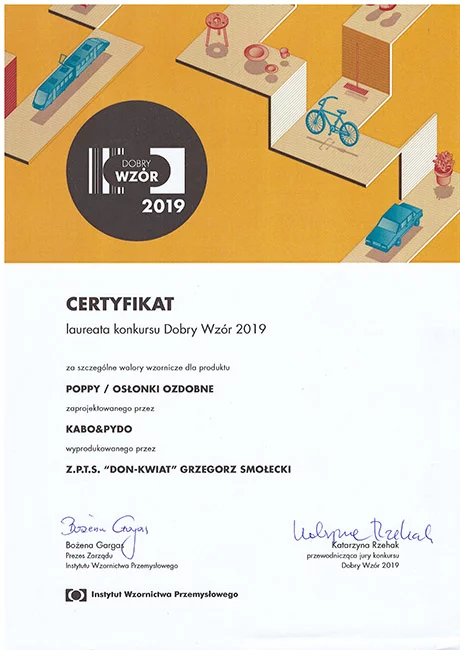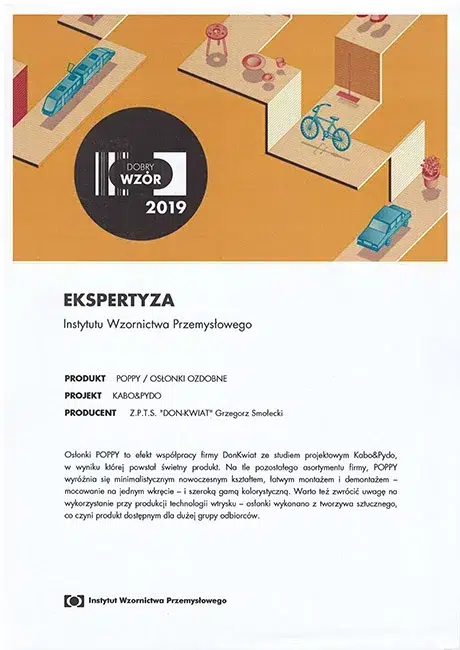 ---